Many organizations include tablets in their overall definition of "mobile" computing. But when you look at where and when tablets are being used today, they're much more "mobile in the home" than mobile.
Where Are Tablets Used?
One way to gauge mobility is to see where tablets are being used the most.
30% of tablet owner's time spent with their device was while watching TV and 21% was spent lying in bed. (source)
Unlike smartphones, few consumers take their tablets with them when they leave the house. They do, however take their tablets on vacation or work trips and a small number take them on their commute. (source)
When Are Tablets Used?
Looking at when tablets are used the most supports "at home" use as well. In this data from the reading service, Pocket, you can see iPad readers are primarily active in the morning and evenings.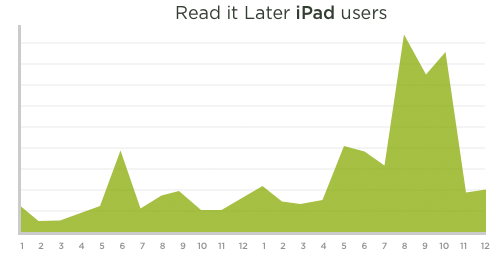 The same trend can be seen in weekday consumption of news content by hour of the day. The use of desktop/laptop computers is heaviest during work hours while tablet use once again peaks in the morning and late evening.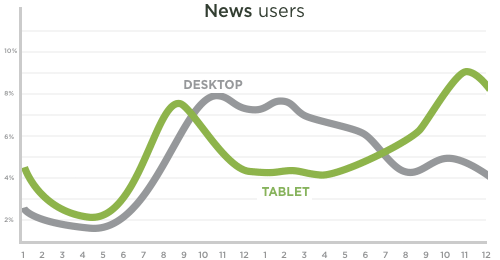 Do Tablets Use Mobile Networks?
Another measure of mobility is how often a device is connected to mobile (cellular) networks vs. fixed location WiFi spots. In other words, is the device being connected to the network anywhere and everywhere it can be?
Only 6% of iPad sessions come from cellular network connections. (source)
29% of iPhones and 68% of Android smartphones in the US browse the Internet only using cellular networks. (source)
Globally, smartphones account for 36% of all connections to public WiFi hot spots compared to 10% for tablets. (source)
Will This Change?
Do these bits of data mean that tablets will always be primarily used in the home instead of being truly mobile devices? Perhaps enterprise and business use of tablets could increase the number of places tablets are used? Today, that's not the case though. 91% of the time that people spend on their tablet devices is for personal rather than work related activities. Let's see if recent tablet efforts by Microsoft and Google change that anytime soon.