Do market sectors have defining brand attributes? Or does the lifecycle of technology inherently promote more conservative corporate personalities (PDF) as new markets mature?
"The Brand is a big idea, not a narrow niche." –The Gonzo Way of Branding
Many of the biggest Internet companies currently share common personality attributes. In addition to quirky names, Yahoo, eBay, Google, and Monster all utilize bright multi-hued color schemes that communicate a sense of fun and surprise. They often opt for illustrations rather than realistic photographs and feature organic page layouts that are not tied to rigid grid structures.
In contrast, companies in the hardware and software sectors (Dell, Microsoft, HP, IBM) seem to gravitate toward monochromatic color schemes (of which blue is the most popular). These companies give photographs of "customers" prominence in their page layouts and make heavy use of rigid rectangular shapes to define interface elements.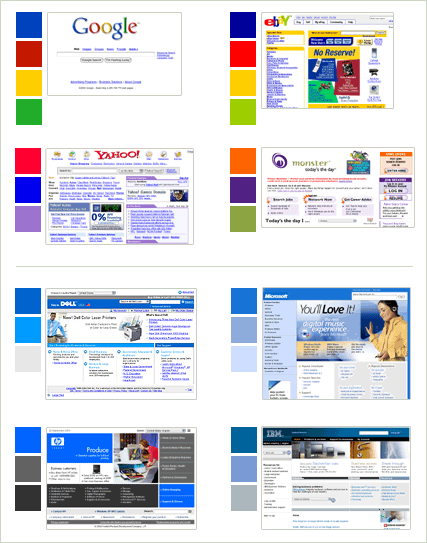 Perhaps this phenomenon is less a result of distinctions between the Internet sector and the hardware/software sector and more directly applicable to technology lifecycles. As market sectors shift from early adopter to mature phases, they absorb more "conservative" brand attributes such as "tighter" color schemes and more "realistic" imagery. When a company needs to be accepted by the mainstream public to sustain growth, being "different" ceases to be an advantage.
So will we see predominantly blue color schemes and stock photos on the Google home page anytime soon? Perhaps. But more interestingly, we may see different brand attributes define new market sectors. Will nanotechnology be represented by angry, grunge-like visuals? Will biotech companies feature earth tones and organic curvilinear forms based on nature? Stay tuned.