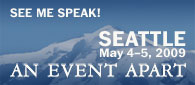 On Monday, May 4th I'll be speaking at An Event Apart in Seattle, WA about Web Form Design in Action.
If you are interested in going, feel free to use the discount code: AEALUKE for $100 savings on the event cost.
Official Description
Building on topics in his top-selling book, Luke will illustrate how to apply design best practices to redesign crucial web forms. He'll also outline how gradual engagement approaches to form design can create compelling new user experiences for a wide variety of web applications and services.
Hope to see some of you there!