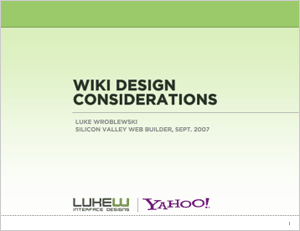 At the Beauty & the Beast of Wiki panel, I walked through several Wiki design considerations. Though not a comprehensive list of things to address when designing Wiki software, these considerations none the less touch on a number of important issues including: first time experience, packaging, content creation tools, rich interactions, and more.
Wiki Design Considerations (1.2MB PDF)
I've also posted notes from the panel discussion with wiki software providers Wet Paint, Mind Touch, Atlassian, Brain Keeper, and Zoho about Wiki usability issues.