Wondering if you should take the time to ensure your Web application provides a good experience on touch-based devices?
Touch is currently growing 3X (units) to 10X (revenue) faster than the display industry. For evidence, look no further than Nokia. In 2009, over 1.1 billion consumers owned a Nokia device. In 2010, the company projects over half their smart phones will have touch interfaces.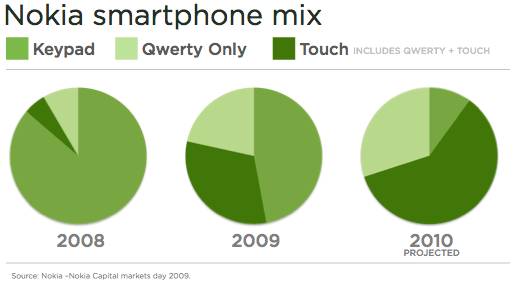 Research in Motion, who shipped 10.5 million Blackberries (the number-one selling smartphone in the U.S.) last quarter just demoed their new multitouch-enabled operating system (OS 6.0).
Apple sold 1 million multitouch-enabled iPads in 28 days. That's 35,700 per day. Last quarter (Q1 2010) they sold 97,000 multitouch-enabled iPhones per day. In February, 2010 about 60,000 multitouch-enabled Android phones were being sold per day. Add that up and you are looking at 192,700 touch-based devices making it into consumers hands per day.
Sounds like a pretty good reason to care. If you do care and want to design for touch, check out the Touch Gesture Reference Guide to get going.