Mobile Input
by Luke Wroblewski May 28, 2014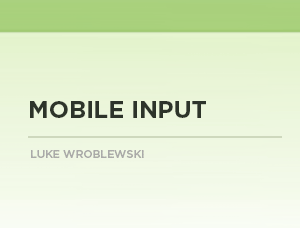 Description
Being able to access content on mobile devices is only half the battle. People also need to participate. And since they're likely to have their mobiles with them all day, there's plenty of opportunities to capture their input. But how?

Mobile devices come with a natural set of constraints that's traditionally made input hard. But there's hope. In this talk Luke Wroblewski, author of the best-selling book, Web Form Design, will outline how to:
Focus your efforts on where input matters
Take the burden of input off users and onto your designs & code
Go beyond Web forms to capture user input
You'll walk away with best practices and inspiration to optimize your mobile Web sites and applications for input that allows your users to buy, communicate, register, and more!
Presented at: