When we teach our Influencing Strategy by Design course, Tom Chi and I ask our students to visualize the video game console market using data from 2007 and early 2008. At that time:
In other words, Nintendo was on a roll and selling more video game consoles (home and mobile) than anyone. As the diagram below shows, the game console market was growing and the Wii was taking a very large piece of this increasing pie despite significantly lower technical prowess: 729mhz processor vs. 3.2ghz processor (PS3) and 4GB of memory vs. 25GB of memory (PS3).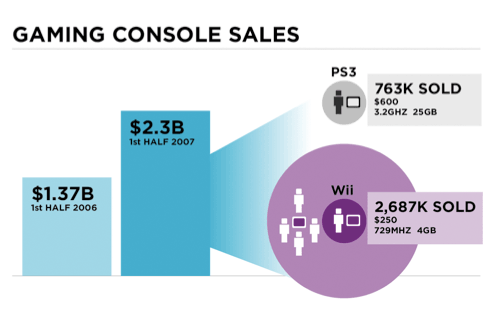 In our course we asked students to explore ways to visualize why this was happening. Here's an example highlighting the impact of:
Lower development costs: the Wii's simple graphics and tool kits made it easy for developers to create games fast. Since games sell consoles, having more good games up front helped the Wii a lot.
A low price point: originally intended to cost $100, the Wii was ultimately priced at only $250. That was less than half the cost of a $600 PS3.
A lower game play bar: the Wii's innovate motion controller let anyone easily learn and start playing. This opened up the Wii's potential audience to a large set of "non-gamers" interested in having fun with friends and family.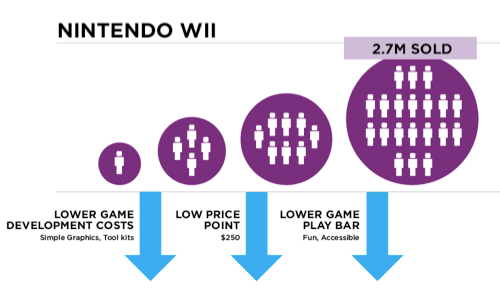 Each of these factors contributed to 2.7 million Wiis sold in the first half of 2007. But they also presented opportunities for competitors, new entrants, and Nintendo.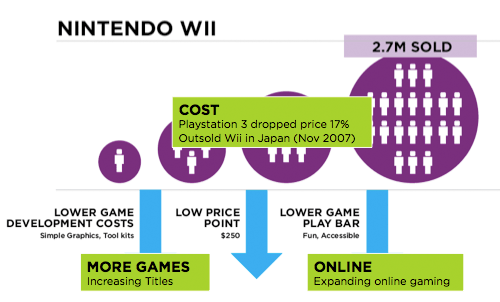 Microsoft and Sony focused on getting popular games on their consoles like Halo and Rock Band (which took a long time to reach the Wii). They both pursued aggressive price reductions. In fact, when the PS3 dropped its price by 17% in November of 2007, it actually outsold the Wii in Japan that month. Since then (in August 2009) Microsoft's Xbox dropped in price by $100 and Sony released a PS3 Slim version with a $100 reduction in price. These moves "forced" Nintendo to adjust the Wii's pricing as well. In September 2009 The Wii's cost dropped by $50.
Across the dozen times we taught the Influencing Strategy by Design course, many other market opportunities were proposed by our students in the video game market including:
Selling accessories that enhance gaming consoles bundled with games that utilize them.
Innovating in mobile gaming by lowering the game play bar on mobile consoles to bring in a new set of game players -essentially what Nintendo did with the Wii in the home console market.
Enabling in-console marketing and sales of games. At the time, the average Wii owner only bought 3.7 games a year compared to 4.7 for the average Xbox 360 owner
Looking at the video game market today, we can see how these opportunities played out.
Bundling Accessories with Games
In 2008, the three best selling video games (single SKU) were all bundled with console accessories: Wii Play w/ remote 5.28 million, Mario Kart Wii w/ wheel 5.00 million, Wii Fit w/ balance board 4.53 million (source)
In just over a year, Nintendo sold more than 15 million units of its "Wii Fit" system (source)
At the end of June 2009, Mario Kart Wii w/ wheel and Wii Fit w/ balance board were the top selling video games of the year. (source)
Price Cuts
Mobile Gaming
Given these changes, it will be interesting to see what students taking the course in the future come up with next.