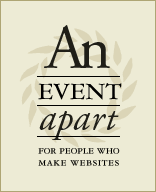 On August 18th I'll be speaking at An Event Apart in San Francisco, CA about Web Application Hierarchy.
I'll walk through how people parse Web pages and the implications of this behavior for designers. Specifically, using the principles of visual hierarchy to communicate key information about the purpose and use of Web applications.
If you are interested in going, feel free to use the discount code: AEALUKE for savings on the event cost.
Official Description
When a potential customer makes it to one of your pages, what will they do? Do you want them to sign up, share knowledge, buy something, or dive deeper into your content? Don't leave these decisions to chance. Learn how people scan web pages and how to guide users through key content and actions using visual hierarchy to construct meaningful, prioritized page layouts. Includes multiple before and after examples.
Hope to see some of you there!