The Touch Gesture Reference Guide is a unique set of resources for software designers and developers working on touch-based user interfaces.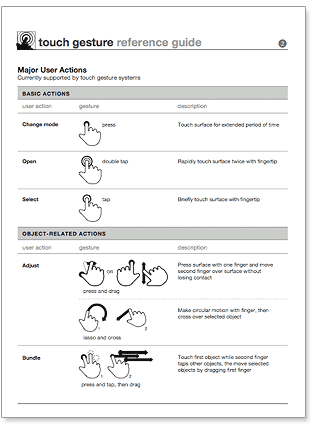 The guide contains: 1) an overview of the core gestures used for most touch commands 2) how to utilize these gestures to support major user actions 3) visual representations of each gesture to use in design documentation and deliverables 4) an outline of how popular software platforms support core touch gestures (below).
Download

Touch Gesture Reference Guide
Touch Gesture Cards
For wireframes and mock-ups:
Visuals only (PDF)
Visuals only (EPS)
Visuals only (OmniGraffle Stencil)
Visuals only (Visio Stencils)
How to Guide (Visio)
Touch Resources
Touch Target Sizes: outlines recommended touch target sizes from Apple, Microsoft, Nokia, and academic research.
Touch Gesture Diagrams: listing of touch gesture diagrams that illustrate how users can interact with multitouch interfaces. Some can also be used in design documentation.
Touch Interface Growth: details how many touch-based devices are being shipped to consumers each year.
Platform Support
How popular software platforms support core touch gestures.
Platform
Platform Gesture
Platform Description
Core Gesture
iPhone OS
Tap
A user gesture used to press or select a control or link (analogous to a singleclick in a desktop application). To tap, users make a quick up-and-down motion with a finger, lightly striking the screen.
Tap
iPhone OS
Double Tap
A user gesture used to zoom in or out of content or an image. A double tap consists of two quick taps.
Double Tap
iPhone OS
Flick
A user gesture used to scroll or pan quickly. To flick, users place a finger on the screen and quickly swipe it in the desired direction.
Flick
iPhone OS
Drag
A user gesture used to scroll,move the viewport, or pan. To drag, users place a finger on the screen and move it in the desired direction without lifting it from the screen.
Drag
iPhone OS
Pinch Open
A two-finger user gesture used to zoom in. To pinch open, users place the thumb and a finger (or two fingers) close together on the screen and move them apart without lifting them from the screen.
Spread
iPhone OS
Pinch Close
A two-finger user gesture used to zoom out. To pinch close, users place the thumb and a finger (or two fingers) a little distance apart on the screen and move them toward each other without lifting them from the screen.
Pinch
iPhone OS
Touch and hold
A user gesture used to display an information bubble, magnify content under the finger, or to perform specificactions in built-in applications and features. To touch and hold, users touch the screen, leaving their finger motionless until the information is displayed or the action occurs.
Press
iPhone OS
Two-finger scroll
A user gesture used to scroll content in an element with overflow capability or a scrollable inline frame element. A two-finger scroll is a drag performed with two fingers moving together in the same direction.
Drag
(Two-finger)
Platform
Platform Gesture
Platform Description
Core Gesture
Windows Phone 7
Tap
Actions on an item in a two step process. Stop a list from scrolling. Single touch on the screen.
Tap
Windows Phone 7
Double Tap
Toggle between "in" and "out" zoom states of a control or application.
Double Tap
Windows Phone 7
Touch and hold
Shows options (context menu) for an item
Press
Windows Phone 7
Pan
Moves content via direct manipulation (content sticks to finger and follows). A pan can reorder or move a specific item.
Drag
Windows Phone 7
Flick
Moves content
Flick
Windows Phone 7
Pinch
Continous zoom
Pinch
Windows Phone 7
Pinch
Continous zoom
Spread
Platform
Platform Gesture
Platform Description
Core Gesture
Palm webOS
Tap
invokes an action or opens an item. Position the insertion cursor
Tap
Palm webOS
Double Tap
to perform actions like zoom in/out
Double Tap
Palm webOS
Flick
to scroll through lists, or quit an application
Flick
Palm webOS
Swipe
to the right in lists, to delete items
Drag
Palm webOS
Touch & Drag
to scroll
Drag
Palm webOS
Touch & Hold
to enter "reorder" mode. Then drag items to move them.
Press
Palm webOS
Spread
using 2 fingers, to zoom in/out on a web page or a picture
Spread
Palm webOS
Pinch
using 2 fingers, to zoom in/out on a web page or a picture
Pinch
Palm webOS
Rotate
Touch with 2 fingers and rotate - to rotate content
Rotate
Platform
Platform Gesture
Platform Description
Core Gesture
Android
Tap
None provided
Tap
Android
Double Tap
None provided
Double Tap
Android
Flick
None provided
Flick
Android
Drag
None provided
Drag
Android (only 2.1)
Pinch
None provided
Spread
Android (only 2.1)
Pinch
None provided
Pinch
Android
Touch and hold
None provided
Press
Platform
Platform Gesture
Platform Description
Core Gesture
OSX (trackpad)
Scroll
Scroll up and down a page
Drag
(Two-finger)
OSX (trackpad)
Swipe
Flip through your photo libraries
Drag
(Three-finger)
OSX (trackpad)
Swipe
Show your desktop, view all open windows, or switch applications
Drag
(Four-finger)
OSX (trackpad)
Pinch
Zoom in and out
Pinch
OSX (trackpad)
Expand
Zoom in and out
Spread
OSX (trackpad)
Two-finger rotating
Rotate photos, pages, and more.
Rotate
OSX (trackpad)
Tap
Press or select a control or link
Tap
OSX (trackpad)
Click & Drag
Move content.
Drag
OSX (trackpad)
Secondary Click A
Right-click
Tap
(Two-finger)
OSX (trackpad)
Secondary Click B
Right-click
Tap
(on specific area on trackpad)
Platform
Platform Gesture
Platform Description
Core Gesture
OSX (Magic Mouse)
360° scroll
Brush one finger along the surface to scroll in any direction and to pan a full 360 degrees.
Flick
OSX (Magic Mouse)
Screen zoom
Hold down the Control key on your keyboard and scroll with one finger on surface to enlarge items on your screen.
Drag
OSX (Magic Mouse)
Two-finger swipe
Using two fingers, swipe left and right along the surface to advance through pages in Safari or browse photos in iPhoto.
Drag
(Two-finger)
Platform
Platform Gesture
Platform Description
Core Gesture
Microsoft Windows 7
Drag
Touch and slide your finger on screen. Like dragging with a mouse, this moves icons around the desktop, moves windows,selects text (by dragging left or right), etc.
Drag
Microsoft Windows 7
Scroll
Drag up or down on the content (not the scrollbar!) of scrollable window to scroll. Scrolling is available with one or more fingers.
Drag
Microsoft Windows 7
Zoom
Pinch two fingers together or apart to zoom in or out on a document.
Spread
Microsoft Windows 7
Zoom
Pinch two fingers together or apart to zoom in or out on a document.
Pinch
Microsoft Windows 7
Two-Finger Tap
Tapping with two fingers simultaneously zooms in about the center of the gesture or restores to the default zoom – great for zooming in on hyperlinks.
Tap
(Two-finger)
Microsoft Windows 7
Rotate
Touch two spots on a digital photo and twist to rotate it just like a real photo.
Rotate
Microsoft Windows 7
Flicks
Flick left or right to navigate back and forward in a browser and other apps.
Flick
Microsoft Windows 7
Press-and-hold
Hold your finger on screen for a moment and release after the animation to get a right-click.
Press
Microsoft Windows 7
Press-and-tap with a second finger
To get right-click, just like you would click the right button on a mouse or trackpad.
Press and Tap
Microsoft Windows 7
Tap
Touch and release to click. This is the most basic touch action.
Tap
Microsoft Windows 7
Double Tap
To open files and folders.
Double Tap
Platform
Platform Gesture
Platform Description
Core Gesture
Wacom Bamboo
Navigate
Touch and drag across surface.
Drag
Wacom Bamboo
Click or Select
Highlight and select an item.
Tap
Wacom Bamboo
Double Click
Open an application or file.
Double Tap
Wacom Bamboo
Right-click
Bring up a context menu.
Tap
(Two-finger)
Wacom Bamboo
Scroll
Scroll up and down a page
Drag
(Two-finger)
Wacom Bamboo
Zoom out
Spread
Wacom Bamboo
Zoom in
Pinch
Wacom Bamboo
Rotate
Place two fingers on surface and rotate to left or right.
Rotate
Wacom Bamboo
Back & Forward
Swipe two fingers across surface.
Drag
(Two-finger)
Wacom Bamboo
Select & Drag
Select by tapping once then drag across surface. Moves objects.
Drag
Platform
Platform Gesture
Platform Description
Core Gesture
GestureWorks (Flash)
One Finger Single Tap
Touch and remove a single finger on the surface.
Tap
GestureWorks (Flash)
One Finger Double Tap
Touch and remove a single finger on the surface twice.
Double Tap
GestureWorks (Flash)
Two Finger Single Tap
Touch and remove two fingers on the surface simultaneously.
Tap
(Two-finger)
GestureWorks (Flash)
Two Finger Double Tap
Touch and remove two fingers from the surface twice.
Double Tap
(Two-finger)
GestureWorks (Flash)
Scroll (Horizontal)
Place two fingers on the surface at the same time, vertically positioned to each other, then drag both fingers horizontally.
Drag
GestureWorks (Flash)
Scroll (Vertical)
Place two fingers on the surface at the same time, horizontally positioned to each other, then drag both fingers vertically.
Drag
GestureWorks (Flash)
One Finger Drag
Place one finger on the surface and move the finger from one location to another.
Drag
GestureWorks (Flash)
Multi-point Drag
Place one hand on the surface and move the hand from one location to another.
Drag
(Multi-finger)
GestureWorks (Flash)
One Finger Flick
Flick tip of finger across the surface.
Flick
GestureWorks (Flash)
Two Finger Flick
Flick tips of two fingers together across the surface.
Flick
(Two-finger)
GestureWorks (Flash)
One Hand Zoom
Place the fingers of one hand on the surface and draw them apart or together to scale an element on the surface accordingly.
Spread
GestureWorks (Flash)
Multi-point Zoom
Start with both hands together and move them apart across an area on the surface to zoom in. Pull both hands closer to each other to zoom out.
Spread
(Multi-finger)
GestureWorks (Flash)
Pinch Zoom
Place the fingers of one hand on the surface and draw them apart or together to scale an element on the surface
Pinch
GestureWorks (Flash)
Two Finger Rotate
Place two fingers on the surface and turn the hand at the wrist to rotate an image on the surface
Rotate
GestureWorks (Flash)
Multi-point Rotate
Place both hands on the surface and move them simultaneously in a circular motion to rotate an image on the surface.
Rotate
(Multi-finger)
GestureWorks (Flash)
Precise Tilt (Yaw)
Move three fingers in a vertical line to tilt an object in the Y plane (precise increments).
Drag
(Three-finger)
GestureWorks (Flash)
Aggressive Tilt (Yaw)
Move three fingers in a vertical line to tilt an object in the Y plane.
Drag
(Three-finger)
GestureWorks (Flash)
Precise Tilt (Roll)
Move three fingers in a horizontal line to tilt an object in the X plane (precise increments).
Drag
(Three-finger)
GestureWorks (Flash)
Aggressive Tilt (Roll)
Move three fingers in a horizontal line to tilt an object in the X plane.
Drag
(Three-finger)
Platform
Platform Gesture
Platform Description
Core Gesture
Microsoft Surface
Tap
Press and then release
Tap
Microsoft Surface
Slide or push
Move the object under your finger with a sliding or pushing action
Drag
Microsoft Surface
Flick
Press, slide quickly, and then release
Flick
Microsoft Surface
Touch-and-turn
Slide your finger on the content around a point of the content; you can also fake this carefully with manipulations in ScatterView
Drag
(Around an object)
Microsoft Surface
Spin
Twist quickly to rotate the object
Rotate
Microsoft Surface
Pull apart Stretch
Pull fingers apart on two hands
Spread
(Two-finger)
Microsoft Surface
Push together Shrink
Bring fingers together on two hands
Pinch
(Two-finger)
Microsoft Surface
Twist
Twist the object with two or more fingers, like turning a knob or paper
Rotate
Microsoft Surface
Pinch
Bring two fingers together on one hand
Pinch
Microsoft Surface
Squeeze
Bring three or more fingers together on one hand
Pinch
(Three-finger)
Microsoft Surface
Spread
Pull fingers apart on one hand
Spread
(Five-finger)
Microsoft Surface
Pin turn
Pin the object in place with one finger while the other finger drags the object around the pinned point
Rotate
The Touch Gesture Reference Guide was conceived of, researched, illustrated, and designed by:
Platform support information comes from the following sources: